Available exclusively on Amazon Prime Video, Solos is a seven-part drama anthology series that spans the present and the future, exploring the deeper meaning of human connection through the lens of the individual, with the help of visual effects. Each character embarks on a thrilling adventure into an uncertain future and eventually discovers that even during our most isolated moments, we are all connected through the human experience.
The series features an all-star cast including Oscar winners Morgan Freeman, Anne Hathaway and Helen Mirren, as well as Uzo Adubo, Anthony Mackie, Constance Wu, Dan Stevens and Nicole Beharie.
Ingenuity Studios, the primary VFX house for this show, completed 512 shots across the seven episodes of Solos, with effects ranging from the development of unique environments to futuristic technology that interacts with the characters, as well as period changes, a double body scene, continuity work, and more. Notably, the ocean in the episode "Stuart" (starring Morgan Freeman and Dan Stevens) is the only filmed element to be incorporated into the series. All other elements were either created behind closed doors or with visual effects art.
"Given the degree to which the actors interact with their surroundings as each episode unfolds – as opposed to a large number of characters – the visual effects really add to the story by implementing complex storylines and sometimes fantastic," said David Lebensfeld, Founder and VFX. supervisor at Ingenuity Studios. "Solos was designed to meet the challenges of production during the COVID-19 pandemic while staying true to its core story centered around our shared humanity," Lebensfeld added. "As for the Ingenuity team,
Solos was special to us for a number of reasons. It was our first anthology TV series, and it was our first TV production during COVID, after quite a few commercials and music videos that were shot during the pandemic. Each episode of Solos is basically an individual short allowing the performances to shine.
Here, the studio highlights the VFX of each episode.
Episode "Stuart" – Morgan Freeman, Dan Stevens.
(Directed by Sam Taylor-Johnson)

Sky and Beach Replacements: These were shot on blue screen and practically.

Memory/Awareness Transfer UI: Stuart and Otto wear wrist patches that feature a graphical user interface showing transfer progress throughout the episode. The injection serum that starts the process was also designed by Ingenuity Studios.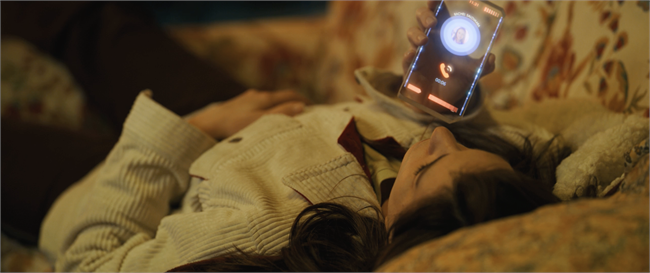 Episode "Leah" – Anne Hathaway.
(Directed by Zach Braff)
Green Orb:
She uses a white spherical orb as a communication device as well as a kind of diary. The team at Ingenuity Studios brought it to life with an animated lighting design that pulsates in green and white.
Futuristic Phone User Interface (UI):
She uses a thick, transparent glass/acrylic phone throughout the episode. Ingenuity Studios created the original user interface for the phone.
Improved Time Machine:
Ingenuity Studios added flashes of electricity to the shots where its time machine goes crazy.
Add crying:
There's a scene where she's crying but she didn't actually cry tears on set, so Ingenuity Studios added tears and streaks of tears falling down her cheeks.
The chalk disappears:
One of the walls of his laboratory is covered with chalk scribbles of mathematical equations from his research. During the dramatic final scene in which time unravels, Ingenuity Studios created a special effects-based effect for the chalk to come loose and float/disappear from the wall.
Disappearing physical objects:
Additionally, in the dramatic final scene, all physical objects (desk, chair, time machine, etc.) also begin to disappear.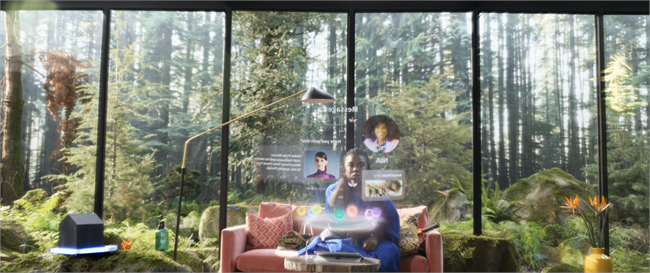 Episode "Sasha" – Uzo Aduba.
(Directed by David Weil)

Fire continuity: There is a fireplace in his house that is on in some shots and off in others. The Ingenuity Studios team added fire where needed to ensure continuity.

CG Pool: In the final scene, she realizes that her house is not what it seems. The bay windows in a wall of her house turn out to be computer screens and turn into a memory of her childhood playing in the pool. The windows change and give the impression that the house is at the bottom of the swimming pool.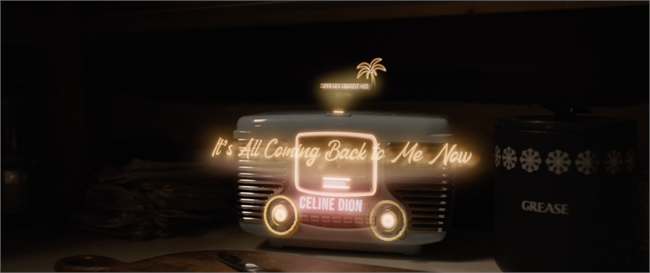 Episode "Nera" – Nicole Beharie.

(Directed by David Weil)


Improve the blizzard: The practical snow they used on set was dull and a big scary blizzard was needed. Ingenuity Studios added heavy snow in every shot with a viewport.


Radio hologram: She has a retro-looking futuristic radio that projects holograms for her display.

Phone Hologram User Interface: His cell phone has screens and a projected hologram, all designed by Ingenuity Studios.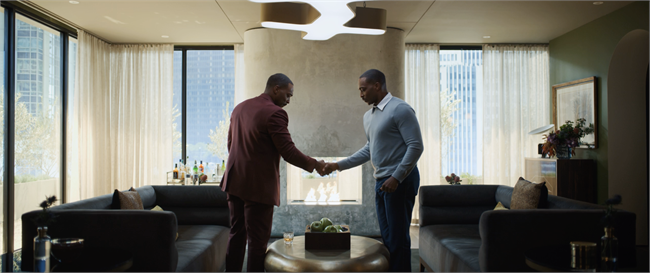 Episode "Tom" – Anthony Mackie.

(Directed by David Weil)


Resolution for Anthony Mackie playing twins: The Ingenuity Studios team made sure the proportions of the stunt double's body double match Mackie's, and in a close-up of the two Mackie twins shaking hands.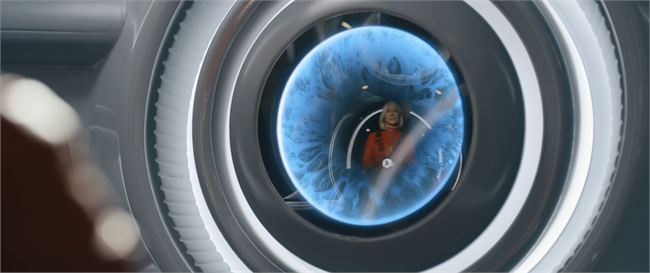 Episode "Peg" – Helen Mirren.
(Directed by Sam Taylor-Johnson)

TY: The only other character in the episode is the computer system controlling the ship, named "TYM". TYM has advanced artificial intelligence and holds dynamic conversations with Peg, soothing, informing, actively listening and encouraging her to tell stories. TYM has a sort of "face" on the large console in front of Peg's cockpit chair. Ingenuity Studios designed the look and all animations for TYM.

Photos from outer space: The Ingenuity Studios team created shots of Peg's craft flying through space between the moon, sun, and stars.
Episode "Jenny" – Constance Wu.

(Directed by David Weil)


Medical monitors and equipment: At the end of the episode, we see Jenny in a medical lab with monitors, control panels, and even a diode attached to her forehead. Ingenuity Studios designed and animated all of the screens to achieve the desired story points.


Wing replacement: There was an entire scene of Jenny filmed without the actress wearing her costume wings. Ingenuity Studios has cleverly crafted them.

Technology used by the Ingenuity Studios team included Nuke, Maya, Houdini, Renderman, ZBrush, Marvelous Designer, After Effects, Hiero, and Resolve.
CUSTOMER:

David Weil – Creator and Executive Producer + Director on Sasha, Nera, Tom and Jenny episodes

Sam Taylor-Johnson – Executive Producer + Director on Stuart and Peg episodes

Zach Braff – Director on the episode of Leah Laura Lancaster – Executive Producer

Jason Neese, Jamie Neese – Co-producers (post-production)

Juliette Yager – VFX Director, Amazon Studios


 

INGENUITY STUDIOS:

David Lebensfeld – Founding Partner and VFX Supervisor

Grant Miller – Partner and VFX Supervisor

Matthew Poliquin – Executive Producer

Evan Davies – Senior Visual Effects Producer

Joshua Seward – Visual Effects Producer

Matthew Robillard – Principal Composer