In addition to the story, what makes this series so unique is the new proprietary technology platform used to produce it. Trioscope Enhanced Hybrid Animation technology combines state-of-the-art CGI with live performance.
Juice's scope of work on the series includes overseeing production in Lodz, Poland, and working closely with Trioscope throughout the post-production process, during which Juice artists and engineers produced over 4 000 visually stunning shots.
"We tell this fascinating story using Trioscope, which is marked by an unusual style, mixing acting, animation and a specific 'graphic novel' look. We therefore needed a trusted partner with relevant experience in "standard" post-production and VFX animation, but also with the talent and vision to go beyond the limits of photorealism", explains Grzegorz Jonkajtys , director and creative director of Trioscope. Juice has created a wide range of such art projects. Their sensitivity and experience make them an excellent partner for this series and many more to come.
Michał Misiński, Art Director and Second Unit Director at Juice, added, "This is a big milestone for our entire studio. Discussions about cooperation on the series lasted more than two years. With Grzegorz, we clarified what the series should look like. Initially, just two of us, then together with the entire Juice team, we created something called "proof of concept". Technology will allow us to preserve the authenticity of the emotions of real actors. Thanks to CG, we take care of every detail – even the smallest – on the screen. We are creating a new, original visual language, and Grzegorz's sensibility and approach will allow us to create something absolutely unique compared to other film productions.
the liberator is produced by Trioscope Studios, A+E Studios and Unique Features. Grzegorz Jonkajtys is the director. Jeb Stuart (Die Hard, The Fugitive) wrote the screenplay. The trailer can be seen at https://www.youtube.com/watch?v=vZaIZgkCcXQ.
Right here, CGW Editor-in-Chief Karen Moltenbrey sits down with Misiński and Marko Zarić, VFX Supervisor at Juice, for an in-depth look at this unique work.

How did you get involved in the project?
Michal Misinski: I have known Grzegorz Jonkajtys (Director and Creative Director of Trioscope) for some time. He invited me to join forces and develop the "Trioscope style". As I am part of the Juice family, we all threw ourselves into the project. In four years, we have produced almost 200 minutes of content representing this type of visual language.

How long did it take to make the film, from concept to final?
Michal Misinski:
About four years.
How was it decided which shots were CG vs live action?
Marko Zaric:
Anything that didn't require our actors to be in frame, or to interact with objects, was done in CG.
How was the video acquired? Were archival footage used or were they all shot simultaneously?


Marko Zaric: All of the images were taken at the time. But that being said, we used a lot of stock footage and photos as a guideline. For example, there are shots in episode 04 that were filmed exactly like the archive footage.



Why the decision to use a mixed medium for this project?

Michal Misinski: We just wanted to be able to express real emotions. Nothing can replace the facial expression, you know – the real ones. Having actors on set will always be an advantage in this area. Using CG, on the other hand, gives control to create the world as you imagine it. Mixing these two was a perfect match for this kind of production.



How much of the movie is CGI?

Marko Zaric: Every element of the environment, as well as the vehicle animation, weapons, and visual effects, were done in CG. We also had full CGI shots, like crowds of soldiers on the battlefield. On the other hand, there were a bunch of actors. So, we can easily say that the entire show is made up of equal parts live footage and CGI.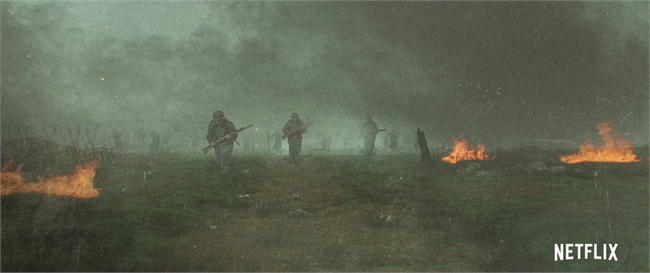 Please describe what style of animation was used.

Michal Misinski: It's an enhanced hybrid animation – Trioscope. It's an exclusive animated drama engine that merges live action with animation for a groundbreaking moving graphic novel experience.



Why was this style used instead of something more realistic for the film?

Michal Misinski: I like both. On the one hand, you can create a unique style, something no one has ever seen before. When you look at the
Band of Brothers, Saving Private Ryan and other [epic war films], you want to produce something new, so in this case a stylized approach will bring something new to the table. Who knows what will be next.


Describe the animation process.

Marko Zaric: The animation was done in stages. First, we would take all of the live action footage and process it with our tools until we got the overall look and "feel" we wanted. Then we would animate the necessary parts, which included props, vehicles, etc. And finally, it would all go through custom tools that we have developed so that we can "destroy" the natural flow and achieve the desired "low fps" feel. Adjusting all the elements to work independently of each other while still feeling like they're in the same "time frame" was the icing on the cake.



What tools did you use and for what specific tasks?

Marko Zaric: We tried to keep all production in our existing pipeline, which meant we used our CG pipeline consisting of [Autodesk's] Maya and Arnold [SideFX's] Houdini, our 2Dcompositing pipeline composed of [Foundry's] Nuke and [Blackmagic Design's] davinci [Resolve]. But for specific effects and tricks, we explored other options.


Did you design any new tools or techniques?

Marko Zaric: Yes. The visual style we developed required us to come up with a procedural way of dealing with live footage. So we developed custom toolsets for our compositing pipeline, which allowed us to work seamlessly, not focused on the shot, but rather on the stage. Our R&D department worked closely with the director, and we ended up with several plugins for our Nuke pipeline. Also, a matching style was required for all CG parts and bits, so we wrote a custom shader for Arnold that marries those two worlds perfectly.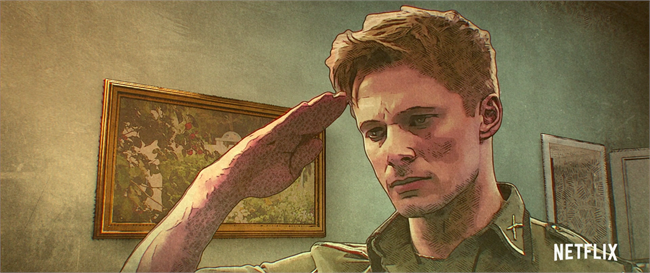 What were the biggest artistic challenges in terms of creating CGI?

Marko Zaric: Details, details, details! The constant question we asked ourselves was: where is the line between the appearance we are looking for and the realistic details? For example, we were creating real cities or existing vehicles, which look like this and nothing else. So finding that fine line of artistic interpretation and the real existing details was the hardest part.



What were the biggest technical challenges?

Marko Zaric: It definitely combined all the CG elements with live footage. But unlike every other production we've done before, the style was driving both. So finding the perfect balance between getting the perfect visual/artistic style and speed of execution (rendering time and edits) was the priority from day one.



How is this project different from other projects you have done?
Marko Zaric:
In most CG-related projects, you adapt the CGI to your footage or you simply create it in CGI. Here we had to adapt the live and CGI images to a very specific style and make them seamless. It was a new way of thinking for all of us, and it forced us to "reinvent" our workflow.
How many artists at Juice worked on it?
Marko Zaric:
There are 130 names in the credits responsible for production and post-production, plus another 130 names responsible for the actors part of the production. Add to that list everyone in sound production and post-finishing (Atlanta) and everyone involved from Trioscope Studios, A+E and Netflix.
Tell me about your studio.

Michal Misinski: Juice was founded in 2016. We started as a design studio, and it was quite natural to get into moving image. We now refer to ourselves as a full-service visual and sound effects studio with strong branches in visual effects, animation and design. We work for a wide range of industries; we create advertisements, produce content for culture, education, games, TV series and feature films.