Disney+ The Mysterious Benedict Society is a mystery/adventure series based on the children's books by Trenton Lee Stewart. The series stars Tony Hale as Mr. Benedict, who rounds up four children to stop a global emergency. The series premiered on Disney+ on June 25 and consists of eight weekly episodes, with the finale releasing in early August.
Philippe Thibault is the co-founder/senior VFX supervisor at Folks VFX in Montreal. The studio also has offices in Toronto, Bogota, New York, Vancouver and Atlanta. He served as visual effects supervisor on the series and recently took the time to detail the show's visual effects needs.
As a VFX Supervisor, what was your goal in creating the world for The Mysterious Benedict Society?
"My main goal is always to bring the vision of the show organizers/creators to life in the most enjoyable and spectacular way. Always focusing on telling the story as they envision it while creating the effects the most beautiful and sophisticated visuals. All this on top of respecting budget and time constraints. For me, VFX should be part of the story, and I never want it to feel like a be above all the rest. He must be there to support and tell the story. Storytelling is our business!
The Mysterious Benedict Society is a bestselling book series that became a Disney+ show. Did the already established fanbase and success of the original novel have an impact on how you brought this beloved world to life?

"Absolutely. The first thing I did when I got on the show was read the first book the show is based on. I wanted to understand where all the love for The Mysterious Benedict Society comes, and in every creative meeting we have had, we have always stressed the importance of respecting the origin of this beautiful story.
What tools did the Folks VFX team use to work on this show?

"We developed a tool in Houdini that helped us create the wide variety of styles in all the buildings and architecture in Stonetown. David Gagné in Environment wrote a custom tool that allows us to create neighborhoods using our low resolution blocking and the architectural module After the first automation, some custom attributes allow us to add an extra layer of detail, such as number of windows per floor, roof drainage angle, cornice depth , the clothesline, etc.

How were you able to develop a city of this scale with so much detail?
"As I mentioned, the whole city and its surroundings were extremely complex, with many buildings, all with different styles of architecture and exterior details. We had 33 different districts in the city, each of them with a unique architectural design. The CG also had to incorporate real places and buildings. It was a big challenge to put everything together, but our CG team, led by Gabriel Beauvais, did a wonderful job, and we are extremely satisfied of the end result.
What about CG backgrounds and animals? Can you tell us how the Folks VFX team met these challenges?

"The CG backgrounds are part of Stonetown's core asset. When we had the plates rotated through production, we worked on the layout using our asset. Once we found a position that we liked and made sense with the city and location, we did a first pass render in CG and then added fine detail with matte paint where we wanted/needed more photorealistic materials. secret about this methodology, it was particularly helpful on this show. We got really close to our CG and the camera was mostly static, allowing for simple projection and painting over our source material. As for the animals, we made two for this series, a deer and a hawk. We also had to create a bunch of fish. We went through the normal process of creating a creature for the sole purpose that we We wanted these animals to look photorealistic. I would bet no one will know there were CG animals in this series.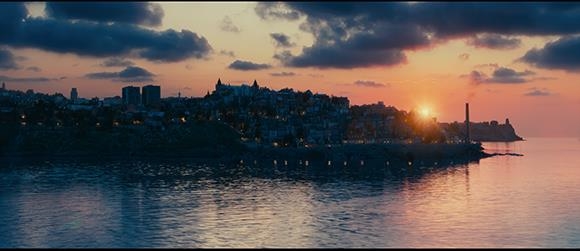 What was the hardest part of working on this series?
"COVID! The production worked miracles to get us filming. On our end, we had to connect all our artists remotely and learn to work with Zoom and Google chat. Luckily, we have set up a state of the art at Folks VFX and we've been able to connect all the artists remotely and keep security very tight. Everything is working incredibly well. And the production has managed to keep the whole series running despite all the layers of complexity the pandemic has thrown their way It was impressive to see."
What role do the invisible effects of the spectacle play?

"I hope all the effects are invisible. This show is very grounded in reality and has beautiful settings and locations. It was always super important for all of us to be there to help tell the story. If we have done our job well, the visual effects will not be noticed. So far, so good. Everyone seems very satisfied with our work.


Do you have a favorite scene or shot when it comes to VFX work?

"I really enjoyed the show as a whole. My team at Folks was amazing. The showrunners Todd Slavkin, Darren Swimmer, Phil Hay and Matt Manfredi are the best, they're so smart and respectful of our work. The whole ride has been an absolute blast but if I have to pick a moment it's for sure the show opener It was complex and challenging but the result speaks for itself Stonetown came to life I hope you enjoyed it.